A Bold New Vision for Rosemary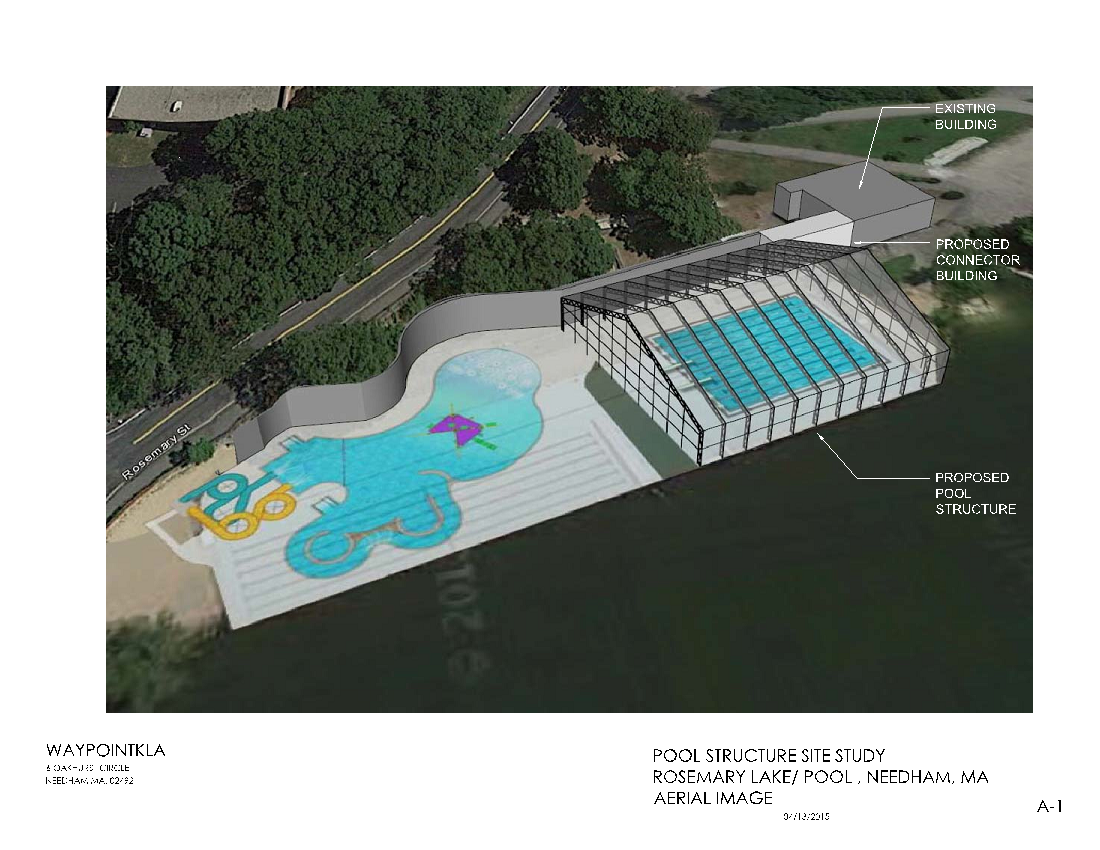 Now that the Town of Needham has allocated and approved funds for the redesign of Rosemary Pool (which must close in 2016) we would like to share our vision of what Rosemary could be - both in the immediate future and for generations to come. With funds privately raised by the Community Center of Needham (CCN), we hired aquatic expert, Counsilman-Hunsaker (CH), to work with us to create a vision for a year-round pool and community center. They developed a sensational concept!
Counsilman-Hunsaker and CCN took the challenging terrain of Rosemary Lake and created a vision of a multi-purpose, year-round pool and community space rather than just re-creating a very large, seasonal, rectangular pool. The rendering above, provided by WaypointKLA, shows a seasonal recreational pool with many creative play areas and an "Open Aire" structure over an 8-lane competitive pool that can be used all year long. The "Open Aire" feature enables 50% of the ceiling and wall panels to be opened at the flick of a switch, enabling outdoor swimming in summer and indoor swimming on colder days. The glass walls also allow pool users to enjoy the scenic Rosemary property all year long. The vision above is not a final design concept, but rather a jumping off point for conversations about the design, in which we hope all residents will become participants. Not all of the vision may be realized at the outset, but we feel it is crucial that the design team take into account the future use and expansion of the property, considering infrastructures that may be required to allow for phasing of the project over time.
The Park and Recreation Commission is forming a Rosemary Pool Advisory Committee to inform the future Rosemary Pool and Lake facility design. Now is the time to get involved and support a wise vision for this project. Without a vision, it is difficult to move beyond merely a replacement pool. Your voice is important! Click here to stay informed and be a part of the solution.
Click here to help support the Design Phase of the Rosemary Study.
Community Involvement is key to finding the "right" design. Be part of the solution.
Rosemary Aquatics Study:
Current trends, financial considerations and opportunities for impact
The Community Center of Needham (CCN) received an amazing amount of support for one vision for a new Rosemary Pool and Community Center. CCN unveiled this at the Needham Business Association Fair, this past Spring. Since Rosemary Pool must close in 2016, the Park and Recreation Commission is moving into the design phase for the new Rosemary Pool. Town meeting has approved the design funds, now is the time for all Needham residents to get involved to help to create the reality of a new Rosemary Pool and Community Center.
CCN hired aquatics specialists, Counsilman Hunsaker, to design a vision of the future Rosemary Pool and Community Center. Please watch this brief presentation for one vision for a new Rosemary, then make your thoughts known to the Park and Rec Commission and the Board of Selectmen. The time to get involved is NOW!
(Please click below for a brief, narrated summary of the Coinsilman-Hunsaker study findings)
---
Rosemary Redesign Approved by Town Meeting
In May 2015, Town Meeting approved design funds, with 78% support, to begin the process of renovating or reconstructing Rosemary Pool and Lake site.
This initial $450,000 in design money, which is funded through the Community Preservation Act, is the first step in a 2-part design process. The second part of the design request is planned for the May 2016 Town Meeting with an expectation that construction funds will be sought in May 2017. The building process could then take 12 to 24 months, depending on the preferred design. Since Rosemary Pool will no longer be able to operate after 2016, time is of the essence to begin this process and continue to move it forward.
The Rosemary site has its challenges, particularly an uneven terrain, but its central location is a strong asset and residents have been vocal in their support of rebuilding at this bucolic setting. The Park and Recreation Commission, working with Weston & Sampson, has proposed a seasonal recreational pool which is no less than 16,000 square feet (compared to 21,000 square feet now). The concept includes renovating the restroom and changing facilities, improving the walking trails, adding community space on the upper floor of the bathhouse, increasing parking spaces and mitigating drainage issues on the site.
CCN is hopeful that the design phase will bring creative ideas to the table to address other important needs, such as year-round and competitive swimming. To that end, CCN commissioned a privately funded study to contribute to the design concepts already being considered. Conducted by Counsilman-Hunsaker, an aquatics consulting firm, this study yielded an alternative two-pool concept, which would increase both competitive as well as recreational use and create the opportunity to cover one pool for year round swimming.
Finding the right size and right design for the Needham community is essential. This project will not be inexpensive - original estimates targeted an $8-12 million range (more accurate estimates will be given as part of the design phase). Despite the costs, Town Meeting showed broad support for this valued resource. The potential is great to make Rosemary more than a seasonal pool, but a year-round destination for residents to gather for recreation, community engagement and social connections.
---
Needham letter: In support of the Rosemary Pool plan
It is with great enthusiasm that I write on behalf of the Community Center of Needham Board of Directors in support of the new pool and recreation complex project at the Rosemary Lake site Read more...
---
Our Vision for a New Pool

A year-round swimming facility that is accessible and affordable to all residents
A pool that will encourage residents to "Swim Needham" and offer an alternative to the expensive private pool memberships offered in neighboring towns
A facility suitable for our school and town's swim teams so they do not have to practice and compete out of town
A facility where residents of all ages can learn to swim and enjoy recreational and refreshing water fun
A year-round gathering place for members of our community